Zinus secured new contract for autonomous ferry charging systems
Zinus has secured a new contract for the delivery of autonomous charging systems to two ferry connections in Nordland county and will thus have all the major ferry companies in Norway as end customers.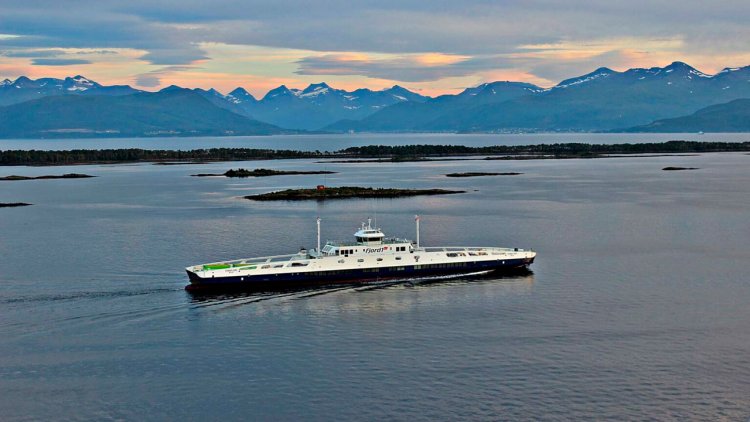 Photo: Geir Løvbugt / Fjord1
Norwegian Electric Systems (NES) has ordered Zinus' autonomous charging solution for electrification of the ferry connections Bognes-Skarberget and Drag-Kjøpsvik in Nordland county – above the Arctic Circle. From 1 December 2022, both routes will be operated by the ferry company Fjord1.
Bognes-Skarberget is an important part of the E6, the main thoroughfare through northern Norway, while the 15-kilometer-long crossing from Drag to Kjøpsvik will be the longest electrified ferry connection in Norway. At all the ferry quays there are large tidal differences.
The delivery from Zinus includes one ZPP700 charging tower for each of the four ferry quays, as well as six SWC100 charging connections to be installed on board the ferries MF Glutra, MF Fannefjord and MF Lote. The systems will be put into operation in the first and second quarters of 2022. Together, the charging tower and connection form an autonomous system that charges electric ferries fully automatically at call. Connecting the ferries to the power supply only takes around 20 seconds, and the system can deliver a current of as much as 4400 amperes.
Odd Bjarte Johnsen, Project Manager in Fjord1 ASA, says:
"We look forward to a good collaboration with Zinus and NES on this delivery."
Sales Manager at Zinus, Ronny Olson, is pleased with the trust shown from NES and Fjord 1.
Olson says:
"This is a valuable contract for Zinus. Not only financially, but also because we are connecting with new customers. Also serving Fjord1 with our equipment, means that we have deliveries to all the major ferry companies in Norway. The contract is therefore yet another confirmation of the trust we gained in the market, and it shows that our Norwegian-manufactured products for the green shift are doing well in competition with major international providers."
He believes that Zinus' Norwegian anchoring has been important for the company's success in the domestic market.
Olson believes:
"Norwegian-developed and -produced technology, at competitive prices and with short delivery times, short shipping distances and a good service apparatus, has made us an important player in the work of increasing the sustainability of Norwegian shipping."