World's first hybrid-powered Surface Effect Ship classed by Bureau Veritas
CWind pionneer awarded 'electric-hybrid' class notation to support eco-friendly operations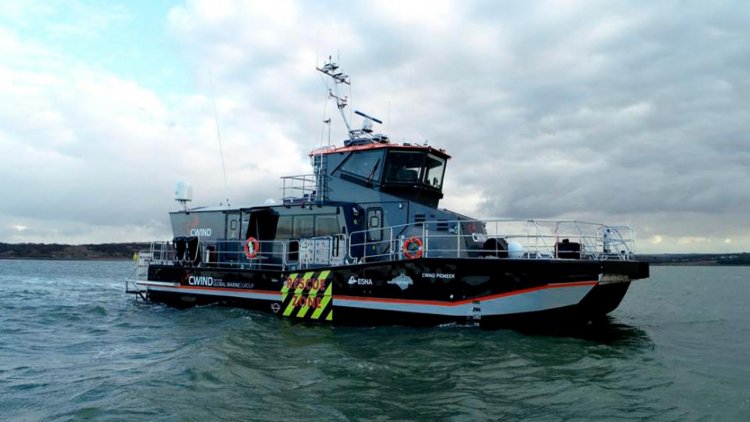 Photo: CWind
Bureau Veritas (BV), a world leader in testing, inspection, and certification (TIC), has classified the world's first hybrid-powered Surface Effect Ship (SES), the CWind Pioneer, which features an air cushion, twin hulls and an innovative diesel and electric drivetrain with considerable battery storage onboard.
CWind is a leading provider of project services, crew transfer vessels (CTVs), and training for the offshore wind industry. With a capacity of 24 passengers, the CWind Pioneer is a direct response to the needs of the offshore wind industry for innovative technologies that reduce CO2 emissions and provide cost-effective services to windfarms located further offshore. The CWind Pioneer can operate at speeds exceeding 43 kts, and can transfer personnel safely and comfortably even in extreme weather conditions with significant wave heights up to 2m, permitting greater operational windows.
Its air cushion motion control system provides significant advantages, with smoother and more comfortable conditions on-board and increased operational days offshore. The CWind Pioneer is being used at the Borssele 1 and 2 offshore wind farms in the Netherlands.
The CWind Pioneer is indeed a pioneer in many aspects. It is a first of its kind with a hybrid diesel and battery electric power system, which enables the vessel to operate purely on battery power alongside or at slow speeds, such as when transiting restricted waterways or on standby in the windfarm, which helps reduce fuel consumption, reduce [diesel] engine running hours and lower CO2 emissions.
This Electric Hybrid technology reduces engine wear and consequently maintenance costs. The reduced noise and vibration levels also provide greater comfort for offshore personnel, helping to ensure that they are fit for work when arriving at the offshore wind farms.
However, the electric hybrid system implementation comes with a good level of complexity that needs to be managed carefully. BV's notation 'Electric-Hybrid' addresses the complexity of these systems, defining requirements for storage, power distribution, control and instrumentation, as well as tests that must be carried out especially when it relates to power management and critical safety considerations, such as thermal runaway.
As a leading training provider to the offshore wind industry, CWind has developed their own rigorous training course for operators of the CWind Pioneer, ensuring the crew have the skills necessary to manage the systems onboard.
Herman Spilker, VP North Europe for Bureau Veritas, commented:
"Through the diversity of our fleet, Bureau Veritas has built high technical expertise which help support the development of the CWind Pioneer's step-change design and eco-friendly operations. We are proud of this superb achievement and we wish its technicians and crew safe and comfortable sailing."