World's first AiP of a high wave offshore solar farm system design
The Oceans of Energy's offshore solar farm system is the world's first offshore solar farm proven in high waves, operating in the North Sea since 2019. This system is modular, scalable to any size.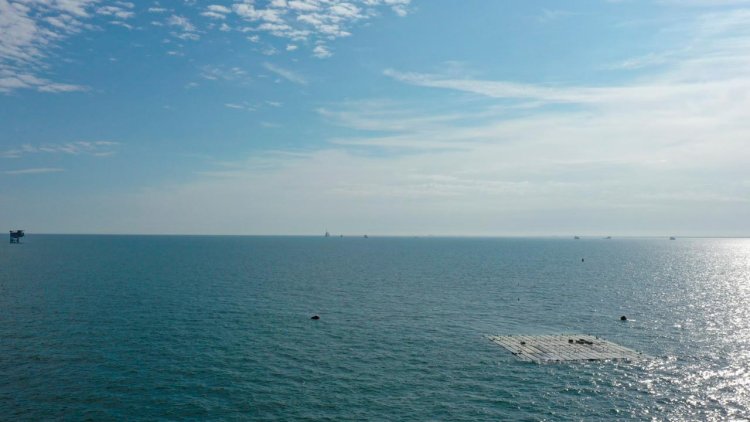 Bureau Veritas has delivered an Approval in Principle to Oceans of Energy, a market leader in offshore solar farms, for their system design of a high wave offshore solar farm system.
The farm currently installed has a size of 0.5 MW. It has a unique design: rather than heavy structures above sea, which are normally used for offshore technology, the offshore solar farm system is lightweight. It uses the sea surface directly as support, like a waterlily resting on the water surface. In order to withstand high waves and rough seas, it uses an innovative system combining rigid and flexible structures that allows it to ride on waves.
Such a novel system had not been used before in offshore high wave application, nevertheless, the system has recently entered its 4th year of successful operation in high waves. Since its deployment, the system has withstood many heavy storms, with waves up to 9.9 metres high. The system was successfully basin-tested with 13-metre-high waves. Over the last couple of years, Oceans of Energy has worked closely with Bureau Veritas on the Approval in Principle of their offshore solar farm system.
The Approval in Principle includes all aspects and products needed for the production of an Offshore Solar Farm system. This includes Oceans of Energy's design base, the designed floaters, the mounting of the solar panels, scale model testing reports and mooring system design. The rough North Sea conditions were used in the reviewed tests on the system and load cases determined all the structural calculations that had to be fulfilled.
Allard van Hoeken, founder and CEO of Oceans of Energy, said:
"Oceans of Energy is very proud to receive this Approval in Principle as we realize it is a testimony of sound engineering, a feasible and sound concept choice and a recognition as a leading technology with a promising future. It is of great reassurance to our stakeholders that the design of the floating farm and mooring system have been reviewed and approved by Bureau Veritas."
Laurent Leblanc, Senior Vice President Technical & Operations at Bureau Veritas Marine & Offshore, commented:
"We have extensive experience in the marine and offshore market that helps us to provide relevant and efficient support to pioneers such as Oceans of Energy. Our mission of "shaping a better maritime world" is all about enabling these innovative solutions that support society's new demands and aspirations. We would like to congratulate Oceans of Energy for this AiP and we look forward to collaborating on the next steps of their venture."