VIDEO: Fish factory ship under construction capsized, sank at shipyard
At least two people have died as a result of the incident.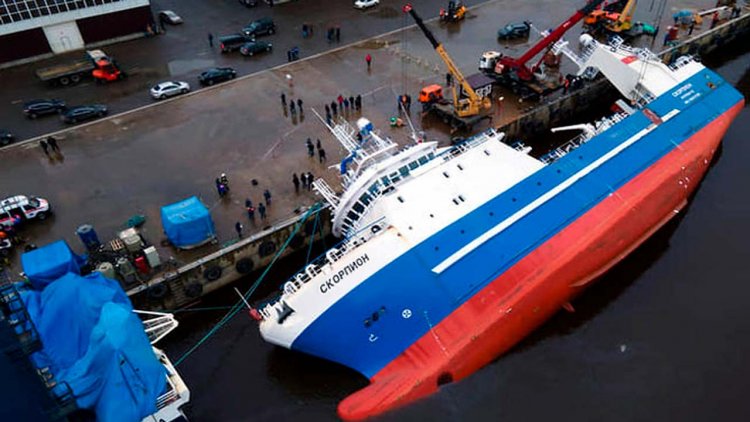 Freezer trawler (fish factory) SKORPION on Mar 30 capsized and sank alongside the pier at Pella Shipyard, S-Petersburg, Neva river, Russia.
The ship rested on the bottom starboard side, two workers were trapped inside and died, their bodies later recovered. The ship was under construction, the accident occurred during ballast system tests, according to local reports. SKORPION was to be received by the owner sometime in the middle of 2021.
Freezer trawler (fish factory) SKORPION, IMO 9847839, GT 2380, built 2021, flag Russia.
The fishing freezer trawler "SCORPION" (project 1701) was launched in July 2019. This is the first of 2 vessels being built for the FEST group of companies. Trawlers of project 1701 are designed for bottom and pelagic fishing and handling the catch on board.
Main technical parameters:
Overall length: 61.04 m
Breadth overall: 14 m
Estimated draft: 5.9 m
Full displacement: 3130 t
Engine type and power: Wartsila 6L32, power 3480 kW at 750 rpm
Speed: not less than 13.5 knots
Crew: 38 people
Sources: FleetMon, Pella Shipyard