Ulstein designed subsea rock installation vessel for GLDD will be America's first
GLDD orders Jones Act compliant rock installation vessel to serve U.S. offshore wind.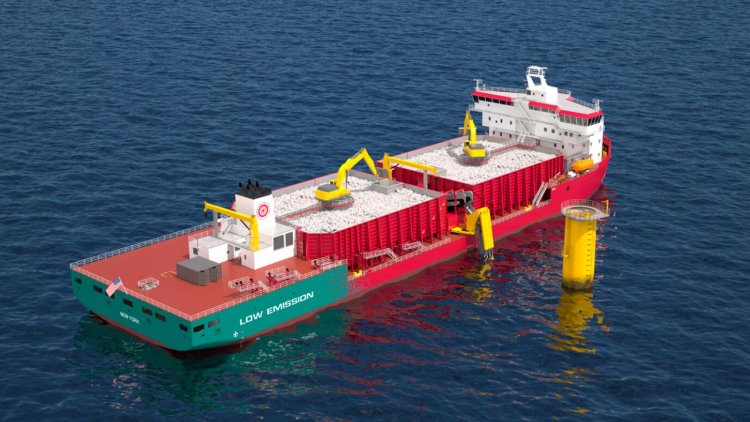 Photo: Ulstein
The vessel, an ULSTEIN S211 design, has been developed by Rotterdam based Ulstein Design & Solutions B.V. and will be constructed by Philly Shipyard. The contract includes the option for a second vessel.
Great Lakes Dredge & Dock Co. LLC (GLDD) is the U.S. leading dredging company. The first vessel will be constructed by Philly Shipyard and is expected to enter operations by Q4 2024 to serve the U.S. offshore wind market.
Eleni Beyko, Great Lakes Dredge & Dock's Senior Vice President Offshore Wind, states:
"World-renowned engineering firm Ulstein Design and Solutions B.V. was commissioned by us to design the vessel using state-of-the-art technology, equipment and automation. The design was reviewed and approved by the American Bureau of Shipping ("ABS") and will be built with best-in-class safety and low emissions standards."
To reach the low emission and sustainability goals, the vessel design includes EPA Tier 4 engines, plug-in shore power connection for loading in ports and battery packs for peak-shaving. The vessel is also able to run on biofuel to reduce its CO2 footprint and is equipped with active emission control technology to minimise NOx emissions.
In the concept phase, the Ulstein Blended Design method was used to enhance cargo efficiency, boost the GLDD business case, and reduce overall fuel consumption.
Ko Stroo, lead designer in Ulstein Design & Solutions B.V., says:
"It is a privilege to work together with the GLDD newbuilding team. Their vast experience in U.S. shipbuilding, combined with our expertise of rock installation vessel design, was essential in creating this unique vessel for U.S. offshore wind sector."
Main dimensions of the vessel are:
Loa 140.5 m / 461 ft
Lpp 134.9 m / 442 ft
Beam (moulded) 34.1 m / 112 ft
Depth (main deck) 10.7 m / 35 ft
Draught (operational) 7.0 m / 23 ft
Service speed 12 kn
Installed power 2 x 3,150 kW - 2 x 2,250 kW
Propulsion thrusters 2 x 2,500 kW
Retractable thruster 2 x 1,200 kW
Tunnel thrusters (fwd) 2 x 900 kW
Positioning system DP 2
Class ABS
Rock hold capacity 20,000 t
Complement 45 P