Titan further expands fleet with vessel chartered from Fratelli Cosulich
Titan has signed a long-term time charter agreement with Fratelli Cosulich for the new 8,200Cbm capacity LNG bunker vessel, Alice Cosulich.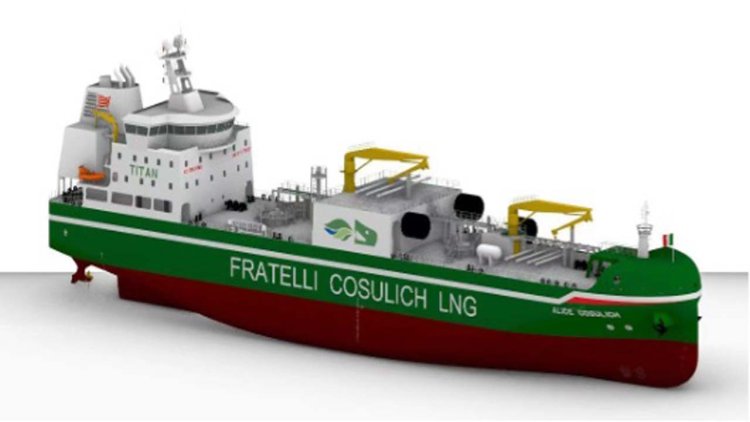 Photo: Titan LNG
Alice Cosulich will join Titan's fleet in the fourth quarter of this year and will operate in Europe. The state-of-the-art vessel which complies with Titan's stringent quality standards has an LNG and liquified biomethane (LBM) bunkering capacity of 8,200 m3, as well as smaller parcels of biodiesel going forward.
The agreement marks a significant milestone in the growth of Titan's LNG and LBM bunkering operations, as it offers Titan even more flexibility in its clean fuel operations. The bunker vessel is, for example, very suitable for performing more complex operations like cooldowns and gas-ups for various types of vessels.
Michael Schaap, Commercial Director Marine at Titan commented:
"This long-term agreement allows the companies to collaborate closely as the Alice Cosulich will further enhance our LNG and LBM bunkering capabilities in the fast-growing European market. We like the design consideration of the vessel as we deem it fit and compatible with a lot of our current and future customer vessels."
"Our comprehensive LNG supply infrastructure allows the shipping industry to start delivering on decarbonisation now. Both LNG and LBM are available today and enable ship operators to reduce emissions straight away. We believe in a multi-fuel future, and - thanks to our team's specialist expertise - we will supply other clean fuels when they become feasible."
Timothy Cosulich, CEO of Fratelli Cosulich Group added:
"At Fratelli Cosulich Group, we adopt a long-term outlook and invest in resources that assist the maritime sector in achieving its objectives for lowering emissions. Our collaboration with Titan exemplifies our strong belief in forming partnerships to deliver innovative solutions that will effectively reduce our carbon footprint globally in a sustainable manner. We look forward to the arrival of Alice's twin in the first quarter of 2024."