Svitzer fleet expands along Brazilian coast
By the end of 2023, Svitzer will be operating 20 tugs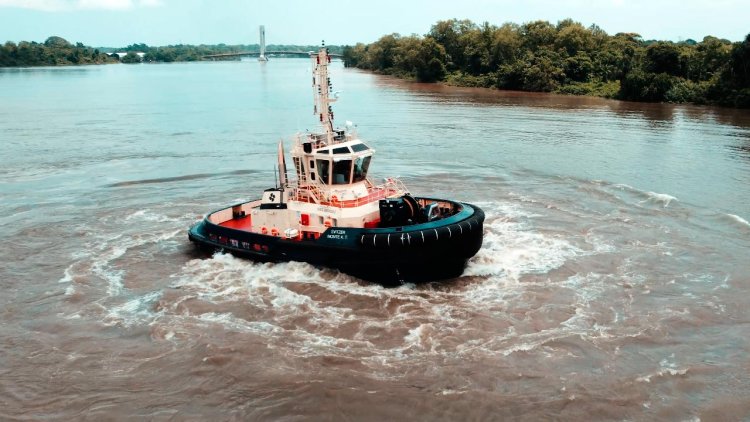 Svitzer has announced the continued expansion of its fleet in Brazil, as part of the ongoing growth of its operations in the country.
Svitzer Monte KT is the fourth tug to join the fleet in the country since April and demonstrates Svitzer's commitment to strategically strengthening its presence across Brazil's coast to deliver sustainable marine services.
Svitzer Monte KT is sister to three tugs already delivered to Svitzer in 2023, which have been deployed across the ports of Pécem, Paranagua, and Santos on Brazil's coast. The tug is one of six new Azimuth Stern Drive (ASD) tugs that will be put into operation by Svitzer in Brazil before the end of 2024. As a Ramparts 2300 series tug, Svitzer Monte KT has a top speed of 13 knots and a bollard pull of 70 tonnes. Designed by Robert Allan, the tug was built by the Brazilian Shipyard Rio Maguari.
The new tug joins its sister tug Svitzer Atanásio in Santos, which was delivered earlier in 2023. Svitzer has a total of four tugs in Santos, Brazil's largest port and Latin America's busiest container hub.
Arjen Van Dijk, Managing Director Americas, said:
"The delivery of the Svitzer Monte KT at Santos shows Svitzer's commitment to continued growth in Brazil. As we expand our port coverage and increase our ability to deliver sustainable services for customers, we also look forward to further growing our footprint in the country over the next few years. Brazil continues to be one of Svitzer's main growth markets in the Americas region with two further vessels, equipped with FiFi 1 (firefighting) capabilities to be delivered to Svitzer in Brazil by the second quarter of 2024."
Commenting on the fleet expansion, Daniel Reedtz Cohen, Managing Director, Svitzer Brazil said:
"We have a very clear strategy in the Brazilian market to strengthen our coverage and deliver safe and reliable services to our customers. With the addition of Svitzer Monte KT to our fleet, we continue to strengthen our ability to deliver high-quality support of global and local ship-operators in Brazil's logistics ecosystem."
By the end of 2023, Svitzer will be operating 20 tugs, including the four vessels added to the fleet in 2023, from eight ports across Brazil – Salvador, Suape, Pecem, Santos, Vitoria, Rio Grande, Sao Francisco do Sul, and Paranagua. As a leading global towage provider, Svitzer combines its wide reach and experience with in-depth regional and local knowledge to benefit its customers in Brazil and ensure they receive services of the highest standard.