Norsepower secures €28 million from investors to bring sails back to shipping
Norsepower receives new funding from leading global private and state investors, providing a springboard to harness the power of wind by giving sails a modern spin – literally.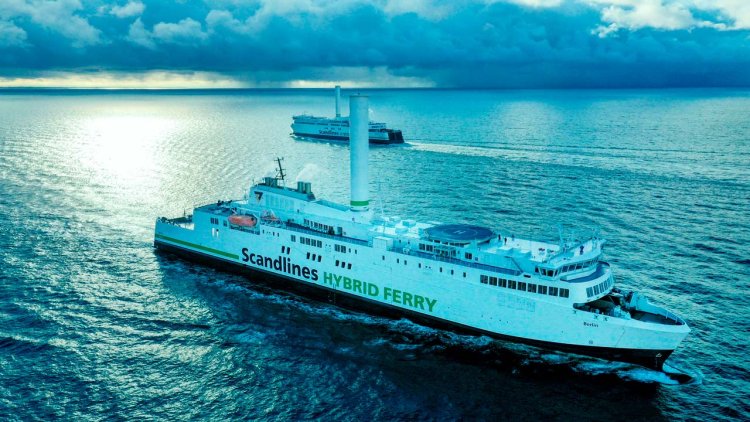 Photo: Norsepower
Norsepower Oy Ltd. has secured 28 million euros in its latest Series C fundraising round. French asset manager Mirova, an affiliate of Natixis Investment Management dedicated to sustainable investment, led the fundraising through its impact private equity Mirova Environment Acceleration Capital fund.
Additional participants in the round included The Finnish Climate Fund (Ilmastorahasto), OGCI Climate Investments, Nefco – The Nordic Green Bank, Tesi, and Power Fund III. With a focus on impact, these organisations have joined forces to enable Norsepower to scale up production and expand the reach of its fuel-saving and emissions-reducing technology.
On a mission to decarbonise the shipping industry, Norsepower is committed to harnessing the power of the wind for large ships. According to Norsepower, there are currently 30,000 vessels on the water today that can benefit from award-winning Norsepower Rotor Sails™, which highlights the opportunity to reduce CO2 emissions across the global fleet by 80 megatons on an annual basis.
The Norsepower Rotor Sail™ is a modernised version of the Flettner rotor. The Norsepower Rotor Sail™ uses a minimal amount of the ship's electric power to rotate cylinder-shaped rotors on the ship's deck. Rotation together with wind generates powerful thrust – saving fuel and reducing emissions. The product has already been used by customers for over eight years and has 250,000 operating hours of verified performance data acquired from some of the world's best-known shipping companies and charterers. This performance data includes installations in collaboration with customers including Bore, Sea-Cargo, Scandlines, Vale, CLdN, Nippon Marine, and Socatra who have selected Norsepower Rotor Sails™ for improving fuel efficiency and reducing the emissions of their shipping operations.
The data – which shows fuel consumption savings of 5-25%, or even more - has been measured and analysed independently by Lloyd's Register, one shipping's leading providers of classification, compliance and consultancy services to the marine and offshore industries, as well as ABB, NAPA, Chalmers University of Technology and VTT.
Commenting on the funding, Tuomas Riski, CEO, Norsepower, said:
"Our goal is simple – to cut the emissions of large ships by saving fuel with our proven Norsepower Rotor Sails™. We are going to bring a modern spin to wind propulsion technology. We empower the industry to use our product alongside other technologies to achieve zero-carbon, cost effective sailing. With over 30,000 vessels globally that can benefit from our product, our scale-up ambitions are bold but realistic. It's a win-win for everyone, including the planet.
"The additional funding from one of the world's leading sustainability investors is a massive leap in the right direction and a clear vote of confidence in our brilliant team, innovative technology, and the overall trajectory of our business."
Youssef Belatar, Investment Director at Mirova, said:
"With this first investment outside of France, the Mirova Environment Acceleration Capital Fund goes one step further to accelerate the scaling of innovative environmental solutions with positive impact. We are thrilled to support Norsepower in their journey to empower the shipping industry towards reaching the goal of zero carbon emissions, and together play an active role in the environmental transition."
Paula Laine, CEO at The Finnish Climate Fund (Ilmastorahasto), said:
"The world needs to limit greenhouse gases as soon as possible to combat climate change, and decarbonising hard-to-abate sectors such as shipping will play a key role. Shipping faces international regulatory and public pressure to adopt more sustainable practices, and we recognise the importance of technology in tackling this challenge and Norsepower's rotor sails are an immediately available solution, especially for emissions-intensive ocean tankers. A key factor in our decision-making is impact and Norsepower's ability to cut CO2 emissions by 5-25 % or even more in good wind conditions."
Iain Fergusson, a Board member of Norsepower and General Counsel of Climate Investments, added:
"There's a pressing need to facilitate more deployments and funnel investment into decarbonising shipping where, as Norsepower is demonstrating that innovation is already delivering meaningful fuel and emissions savings for global operators. We are delighted to expand our backing of Norsepower and look forward to driving further adoption, expansion, and impact."