MSC takes delivery from Fincantieri of MSC Seashore
Second new ship to join brand in 2021, brings fleet to 19 ships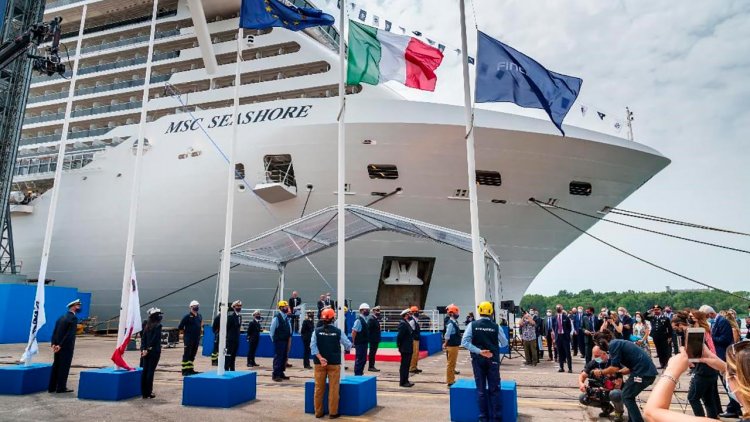 Photo: MSC Cruises
New MSC Cruises flagship to feature some of the latest and most advanced environmental technologies currently available at sea, confirming the Company's longstanding commitment to sustainability
At the presence of Minister of Sustainable Infrastructures and Mobility prof. Enrico Giovannini, the Cruise Division of MSC Group today officially took delivery of its new flagship MSC Seashore – thelargest cruise ship to be built in Italy. Sister ship MSC Seascape is currently under construction at the Monfalcone shipyard and is due to come into service in winter 2022.
An intimate ceremony was held to mark the occasion as tradition dictates at the Fincantieri shipyard in Monfalcone and was attended in person by MSC Cruises Executive Chairman Pierfrancesco Vago, other members of the Aponte and Aponte-Vago families, Giampiero Massolo and Giuseppe Bono, Chairman and CEO of Fincantieri, as well as representatives from MSC's new builds team along with executives and workers from the shipyard. During the ceremony, which pays tribute to centuries-old maritime traditions, Roberto Olivari, Fincantieri's shipyard director, presented to Giuseppe Galano, Master of MSC Seashore, an ampoule containing the water that first touched the hull when the ship was floated out earlier this year.
Pierfrancesco Vago, executive chairman of the Cruise Division of MSC Group, commented:
"The construction of MSC Seashore is an investment that generates an impact on the Italian economy of almost 5 billion euros and the employment of up to 4,300 workers over the last two years. Furthermore, the coming into service of our new flagship will activate an important economic and employment driver, generating a further significant economic impact every year."
"The delivery of this new flagship, particularly in this period, represents a decisive sign of reasoned optimism, which confirms our Group's confidence both in the future of the cruise sector, and in the capacity of Italian manufacturing and industry. Overall, our investment plan in Italy with Fincantieri - in addition to the three ships already built, including MSC Seashore - currently envisages the construction of another five ships, able of generating an additional economic benefit for the country of over 13 billion euros".
Giuseppe Bono, CEO of Fincantieri, stated:
"MSC Seashore is the fourth cruise ship that we have delivered in Italy during this still extremely demanding year, demonstrating the effectiveness of our production and management system. All these milestones, and others to come, have been successfully achieved and this is never taken for granted. This is why I consider this ship not only the best symbol of recovery for the whole cruise sector, but also of the capability of the Group to leverage its competences and soundness to fully preserve our workload".