LDA and Tidal Transit in another French offshore wind farm vessel deal
This new vessel will be designed by naval architect MAURIC and built by French shipyard OCEA.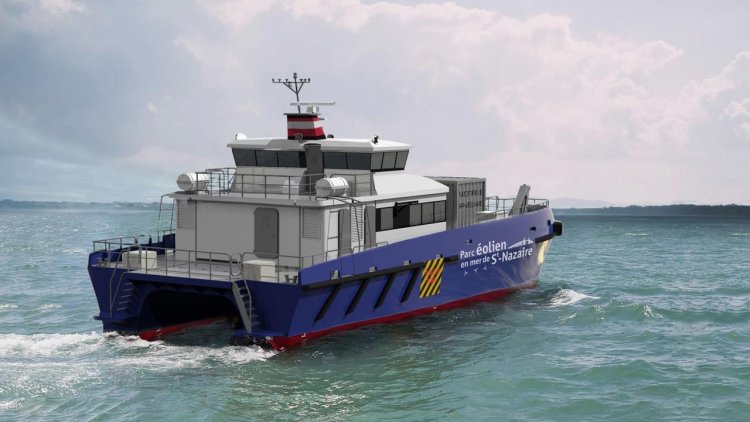 Photo: Louis Dreyfus Armateurs
The Louis Dreyfus Armateurs Group and its partner Tidal Transit have announced the signature of a new contract for a Crew Transfer Vessel for the Saint-Nazaire offshore wind farm.
French shipyard OCEA has been selected for the construction of this new innovative unit designed by the naval architects of MAURIC. LD Tide (a joint venture between Louis Dreyfus Armateurs and Tidal Transit) will operate the CTV for the transfer of maintenance technicians to the Saint-Nazaire offshore wind farm. This unit will be the third vessel to be operated by LD Tide on the future SaintNazaire offshore wind farm.
Following an international call for tenders, Saint-Nazaire offshore wind farm selected LD Tide for an innovative CTV (T-foils, carrying capacity up to 24 technicians, high operability, intelligent bow fender, etc.). In addition to this contract, two other industrial partnerships have been established by LD Tide with French companies, allowing the structuring and development of the French maritime industry
dedicated to Marine Renewable Energy.
The innovative design of this new unit has been entrusted to MAURIC, a naval architecture firm based in Nantes and a member of Neopolia, while construction will be carried out by French shipyard OCEA, a leader in the design, construction, and maintenance of aluminium ships, with production sites based in La Rochelle, Sables d'Olonne, Fontenay-le-Comte and Saint-Nazaire. The CTV will sail under the French flag and will have the mission of ensuring the transfer of technicians (up to 24 technicians per crossing) between the coast and the farm for maintenance of the electrical substation and of the wind turbines in their operating phase.
With 80 GE Haliade 150-6MW wind turbines, the Saint-Nazaire wind farm will offer an installed capacity of 480 MW and will supply 20% of the electricity consumption of the Loire-Atlantique department, in France.