Joint group to launch a green hydrogen plant in Ostend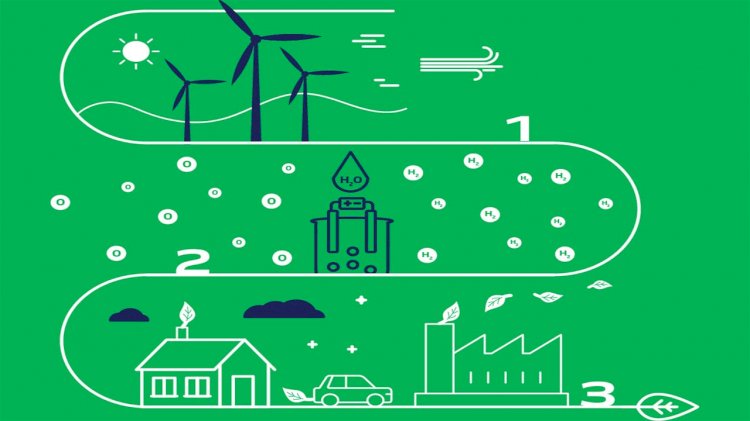 Port of Oostende, DEME Concessions and PMV are announcing an exclusive partnership on Monday 27 January. Their goal is to have a plant operational in the port area of Ostend by 2025 that produces green hydrogen. This end product, green hydrogen, will both serve as an energy source for electricity, transport, heat and fuel purposes and as a raw material for industrial purposes.
If hydrogen (H2) is produced with electricity by means of electrolysis, no CO2 is released in the process. However, the hydrogen produced can only be called green if the electricity used in the process has also been generated in a green fashion. The term 'green hydrogen' is thus used when green electricity is available that converts water into hydrogen via electrolysis. In other words, green hydrogen is hydrogen produced on the basis of renewable energy.
By the end of 2020, 399 wind turbines will be operating off the coast with a combined installed capacity of 2.26 GW. The new marine spatial plan leaves space for several hundred more wind turbines, which will generate around an extra 1.75 GW. That makes a total green energy generating capacity of around 4 GW, supplying half of Belgian households with electricity. However, the wind turbines' production peaks rarely coincide with consumer demand peaks, meaning that there is an opportunity to compensate for the discontinuity between production and consumption.
In the first phase of the process, the general feasibility will be further investigated and a development plan will be worked out. An innovative demonstration project with mobile shore-based power will then be started. A demonstration project with an innovative electrolyser of around 50 MW is also scheduled. By 2022, the roll-out of a large-scale shore-based power project, running on green hydrogen, will start. The finish line will be crossed in 2025 with the completion of a commercial green hydrogen plant in the context of the planned new offshore wind concessions.
The three parties have the necessary expertise and together they are playing an important role in the transition of energy, transport and industry.
Port of Oostende is expanding its activities in the Blue Economy with this area-specific development. The planned location is in the Plassendale 1 port area.
PMV has experience in financing the development, the construction and operation of the infrastructure necessary for energy projects. PMV sees great potential for hydrogen in the long term and wants to stimulate and support entrepreneurial projects involving hydrogen. An expertise unit has been set up within PMV to gather knowledge and improve funding for potential ideas. PMV will participate actively in the expansion of hydrogen activities in Flanders through this public-private partnership.
DEME is one of the pioneers in the development of offshore energy projects. The combination of renewable energy with green hydrogen is fully consistent with its innovation vision, which is why DEME plans to invest in the development and large-scale production, storage and delivery of green hydrogen.
Port of Oostende, DEME Concessions and PMV are once again joining forces to help bring about the energy transition in Flanders. Their joint goal is reflected in a very concrete and ambitious project: HYPORT® Oostende. The green hydrogen plant in Ostend will ultimately deliver a CO2 reduction of around 500,000 to 1,000,000 tons per year. HYPORT® Oostende will make a significant contribution to the achievement of Belgian and European climate objectives.