HAL's Oosterdam back to cruising as ninth ship in the fleet to return to service
Oosterdam to sail a full season of Mediterranean cruises before heading to South America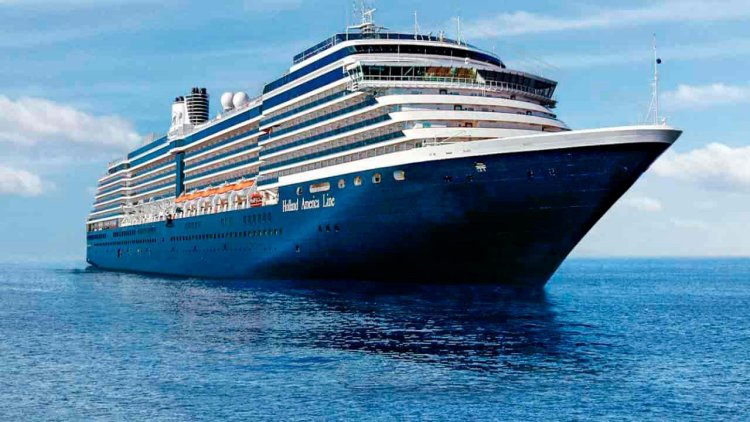 Photo: Holland America Line
Holland America Line welcomed its ninth ship back into service Sunday, May 8, as Oosterdam embarked guests in Trieste (Venice), Italy, for the first time since the industrywide pause began in 2020 due to the COVID-19 pandemic. The ship departed on a 12-day "Holy Lands and Ancient Kingdoms" cruise that includes an overnight at Haifa, Israel, and additional ports in Israel and Greece.
To commemorate the occasion, Holland America Line held a ribbon-cutting ceremony in the terminal to open embarkation, attended by the ship's captain and senior officers, with flag-waving fanfare from team members lined up to greet guests as they boarded the ship.
Gus Antorcha, president of Holland America Line, said:
"Our teams work incredibly hard getting the ships ready for a return to service, and the smiles when they see our guests walking up the gangway that first time are so heartfelt and sincere. Each ship back to cruising means more team members back to sea, and we look forward to the restart being complete next month."
Since Holland America Line restarted cruising in July 2021, Eurodam, Koningsdam, Nieuw Amsterdam, Nieuw Statendam, Noordam, Rotterdam and Zuiderdam have returned to service with cruises in Alaska, the Caribbean, Europe, Mexico, California Coast and South Pacific. Volendam currently is under charter by the government of the Netherlands, positioned alongside in Rotterdam accommodating Ukrainian refuges.
Following its first cruise back in service, Oosterdam will spend the summer in the Mediterranean, offering seven- to 19-day itineraries roundtrip from Trieste (Venice), and between Trieste and Piraeus (Athens), Greece; Civitavecchia (Rome), Italy; or Barcelona, Spain. The ship will explore the entire region with ports in Spain, France, Italy, Greece, Turkey, Israel, Montenegro, Croatia, Albania and Malta.
Holland America Line will complete the restart of the remaining ships in the fleet through June with Zaandam (May 12 in Fort Lauderdale) and Westerdam (June 12 in Seattle, Washington).