Egypt's Suez Canal blocked by large container ship
Traffic on the narrow waterway dividing continental Africa from the Sinai Peninsula stopped on Tuesday after the MV Ever Given got stuck.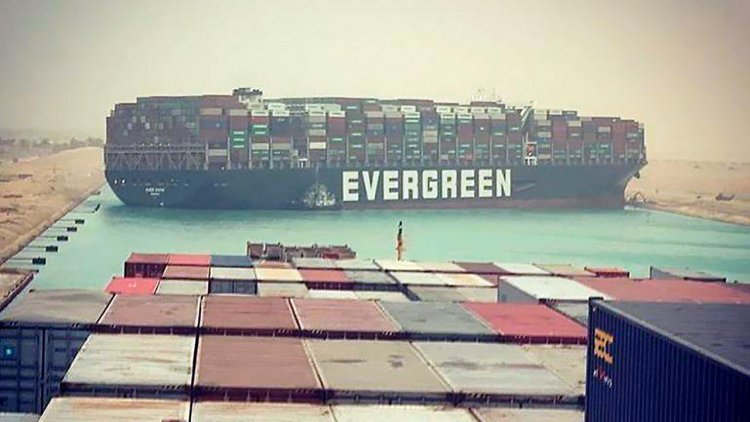 Photo: Instagram/fallenhearts17
A giant container ship ran aground in the Suez Canal after a gust of wind blew it off course, the vessel's operator said on Wednesday (Mar 24), bringing marine traffic to a halt along one of the world's busiest trade routes.
The MV Ever Given is a 400m-long and 59m-wide Panama-flagged container ship, with its owner listed in Japan.
Taiwan's Evergreen Marine Corp, which is leasing the vessel under a time charter, said the shipowner informed it that the ship "was suspected of being hit by a sudden strong wind, causing the hull to deviate from waterway and accidentally hit the bottom and run aground".
The Ever Given's bow was touching the canal's eastern wall, while its stern looked lodged against its western wall, according to satellite data from MarineTraffic.com.
Bloomberg reported the incident had caused a build-up of more than 100 ships seeking to transit the canal.
More than 150 years old, the Suez Canal is one of the world's most important trade routes, providing passage for 10 per cent of all international maritime trade.
Canal authorities could not be immediately reached early on Wednesday. The ship appeared to be stuck about 6km north of the southerly mouth of the canal near the city of Suez.
Cargo ships and oil tankers appeared to be lining up at the southern end of the Suez Canal, waiting to be able to pass through the waterway to the Mediterranean Sea, according to MarineTraffic data.
Egyptian authorities are yet to comment on the incident.
Source: Agencies/dv/channelnewsasia